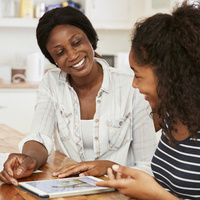 Adolescents with attention, executive functioning, and motivation difficulties often struggle at home, school, and with others. Supporting Teens' Autonomy Daily (STAND; Sibley, 2016) is an empirically supported and award-winning treatment program tailored to the realities of adolescence and provides skills to struggling adolescents and their parents.
The goal of this treatment is to increase adolescent self-directedness and success by engaging the parent-teen dyad in treatment. The flexible approach allows therapists to build a unique treatment plan for each case. Modules include training in adolescent organization, time management, and planning skills. It also involves helping parents find a balance between providing support and promoting teen independence. As a part of therapy, parents and teens consider making changes to the home environment and family routine in support of teen success.
STAND is delivered using a Motivational Interviewing style to help dyads reconnect with their personal goals and values and find realistic strategies that improve parent and teen quality of life.
The three-day training will involve a combination of didactics, small and large group discussions, hands on activities, videos, and role-plays.
STAND training includes 21 CEUs, manual, materials, lunch and snacks
Register for the event here: https://redcap.fiu.edu/surveys/?s=984HD8RHXJ