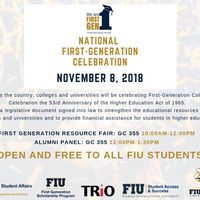 First Generation Day Celebration
This is a past event.
Thursday, November 8, 2018 at 10:00am to 1:30pm
GC - Graham University Center, 355
11200 SW 8th ST 33199, Graham University Center, Miami, Florida 33199
Across the country, college and universities will be celebrating First-Generation College Celebration, the 53rd Anniversary of the Higher Education Act of 1965. This is a legislative document signed into law to strengthen the educaitonal resources of our colleges and universities and to provide financial assitance for students in higher education.
Come learn about all the resources and services FIU has for first-generation students. FIU Students and Alumni will also be there to share their experiences and advice.
First Generation Resource Fair: GC 355 from 10AM - 12PM
Alumni Panel: GC 355 12PM -1:30PM
Open and free to all FIU students, faculty, and staff!
Event Type

Audience
Department

Hashtag

Add to Calendar