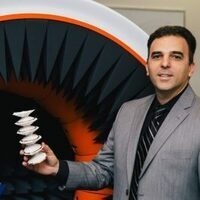 FIU in DC: Launch of the Center for Physically Reconfigurable and Deployable Multifunctional Antennas
Friday, September 14
FIU in DC 440 1st St NW #860, Washington, DC 20001
Join us all day for the launch of the new Origami Center at FIU in DC!
Friday, September 14th
All Day
FIU in Washington, D.C.
440 1st St NW #860, Washington, DC 20001
The Air Force Office of Scientific Research awarded FIU a $4.8 million grant to launch the Center for Physically Reconfigurable and Deployable Multifunctional Antennas. The center will be led and directed by researcher Stavros Georgakopoulos, associate professor in the Department of Electrical and Computer Engineering at FIU's College of Engineering and Computing and inventor of foldable origami antenna systems.
Event Type

Audience

Tags
Department

Hashtag

Add to Calendar