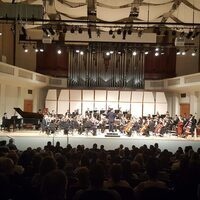 FIU Music Festival Closing Night: Viva España
This is a past event.
Saturday, November 10, 2018 at 7:30pm to 9:00pm
WPAC - Wertheim Performing Arts Center, Concert Hall 10910 SW 17th St., Miami, FL 33199
The FIU Festival Orchestra presents a celebration of culture and resiliency of the Spanish people with the U.S. premiere of Fredrick Kaufman's 'Guernica" and other works. Esteemed guest ensemble from Spain, Camerata Antonio Soler, and celebrated FIU pianist, Kemal Gekic, will also share the stage for this night to remember.
About "Guernica"
In 2011, Fredrick Kaufman completed the "Guernica" Piano Concerto, a commission for the Czech National Symphony Orchestra and concert pianist, Kemal Gekic. The "Guernica" Concerto premiered and recorded in early 2013, at the famed Smetana Concert Hall in Prague.
The three movement concerto takes it name and mood from the 1937 Pablo Picasso anti-war painting, "Guernica," which serves as a testament to the horrors of war. It was painted as an immediate reaction to the Nazi's bombing practice on the Basque town of Guernica during the Spanish Civil War. Kaufman himself, no stranger to the devastation of war upon the human spirit, was a veteran of war in the Middle East. He has written several anti-war orchestral works, such as "Dance of Death", "Lachrymose" Cello Concerto, and his widely performed Concerto for Cello and String Orchestra, "Kaddish". During an interview in 2013, Kaufman stated, "I feel strongly that the time is right at this wild juncture of history for an anti-war composition that not only depicts the horrors of war, but cries out for peace, love, and a positive approach to life in the future."
Event Type

Audience

Tags

Website
Cost

$20 Adults, $15 FIU Faculty, Staff, Seniors, and Alumni, $5 Students (with valid i.d)

Department

Hashtag

Add to Calendar