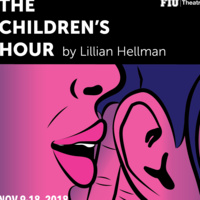 The Children's Hour
by Lillian Hellman
directed by Lesley-Ann Timlick
Rumor can hurt reputations. But in the hands of a child, rumor is a weapon that can destroy lives. Lillian Hellman's chilling play takes on greater relevance today when truth is more slippery than ever.
Friday, Nov 9: 8pm
Saturday, Nov 10: 8pm
Sunday, Nov 11: 2pm
Wednesday, Nov 14: 8pm
Thursday, Nov 15: 8pm
Friday, Nov 16: 8pm
Saturday, Nov 17: 8pm
Sunday, Nov 18: 2pm

Florida International University
Wertheim Performing Arts Center
10910 SW 17th Street
Miami, Florida 33199
Parking for the Wertheim Performing Arts Center is available in Lot 5 (just east of the WPAC). Parking is $3 and can be paid using the Pay By Phone app on your smartphone (location code 20032) or the automated kiosk.
$15 General Admission
$12 Seniors / FIU Faculty & Staff
$10 FIU Students (with ID)
For more information, call our box office at 305-348-0548
Event Type

Audience

Website
Cost

$10 - $15

Department

Hashtag

Add to Calendar