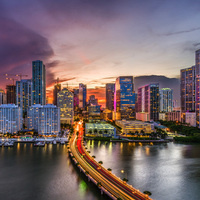 MBA Industry Night: Networking Know-How
This is a past event.
Thursday, July 12, 2018 at 6:30pm to 8:30pm
StartUp FIU, MARC Building, Room 335 11200 SW 8th Street, Miami, Fl 33199
Please note: This event is for current Professional MBA students.
MBA Industry Night: Networking Know-How
Guest Speaker: Emily Gresham
Assistant Vice President of Research at FIU
Emily Gresham serves as the assistant vice president for research at Florida International University (FIU). Ms. Gresham oversees the Innovation and Economic Development unit within the Office of Research and Economic Development (ORED) which is comprised of StartUP FIU, the Office of Technology Transfer and Commercialization Management, and the Office of External Partnerships based in Washington, D.C. She is responsible for leading the efforts to stimulate economic development and prosperity in the region by translating FIU's strengths in research and scholarship into innovation and entrepreneurship. Under her purview, patent production has grown by over 700% since 2015.
Additionally, Ms. Gresham launched StartUP FIU, a university-wide platform to foster and support innovation and entrepreneurship at FIU and the South Florida Region. The program has worked with over 60 existing companies, launched 17 new companies, created over 100 jobs and internships, increased revenue by nearly $4 million and attracted $1.2 million in follow-on investment in the last two years. Ms. Gresham joined FIU in 2012 as the assistant vice president for development overseeing the fundraising efforts for seven colleges and museums before moving on to help facilitate and develop the FIUBeyondPossible2020 Strategic Plan. A proven fundraiser, Emily has raised over $100 million during her career in development at the University of Miami, The Miami Foundation and FIU. She received a BA in English from Hunter College in New York City and earned an MBA from the University of Miami.
Event Type

Audience

Tags
Department

Hashtag

Add to Calendar