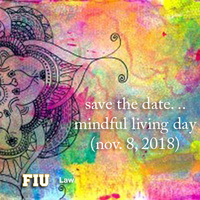 Looking forward to enjoying a mindful living day with all of you. .. a day of relaxation for you to pause and de-stress before final exams.
10:30am | morning tea time & breakfast @ Student Lounge
12pm - 2pm | aromatherapy + mindfulness education/activities with the Healthy Living Program @ Student Lounge
12pm - 2pm | massages from Rebecca Gutierrez & Raul Martinez @ hallway between Admissions/Kitchen
1:30pm - 2:30pm | massages from the HLP @ Student Lounge
2:45pm | 6-min. guided meditation "letting go of anxiety" @ courtyard rocking tables
all afternoon | mandala coloring + ABA haiku contest + reggae relaxation (music by DJ Savi) @ Student Lounge
more to be added to the day's agenda. .. coming soon!
Co-sponsored by the Ovadia CP&P Office, the FIU Law Mindfulness Association, and the Disability Rights Law Association.
For anyone who would like to contribute to the day in any way, please email jessica ciminero @ jciminer@fiu.edu.
Event Type

Audience

Website
Department

Add to Calendar